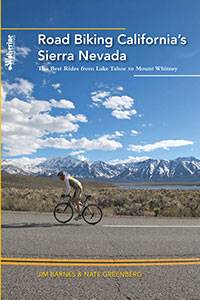 About the book
The Sierra Nevada has unsurpassed road biking: good pavement, quiet roads, huge climbs, long open expanses, and breathtaking views of some of the tallest peaks in the Lower 48. Detailing 48 classic rides from casual to ultra, showcasing the landscape of a 270-mile stretch of the range, this color book will quicken the pulse of anyone who loves to bike. In addition, find descriptions, maps, elevation profiles, and trip tips.
About the Authors
Jim Barnes is a corn-fed Midwestern kid who discovered the West in his twenties and now can't imagine leaving the mountains. A jack-of-all-trades, he has yet to master anything but keeps trying. Mountain biking was his original mountain sport; and since then backcountry skiing, snowboarding, and Nordic skiing have filled the void in the winter. Rock climbing, mountaineering, and cycling keep him busy during the summer. In a nutshell, he loves to play.
Nate Greenberg is a skinny computer nerd with an engine like a Mack truck. Growing up in Southern California, he spent plenty of time in and around the Eastern Sierra, and moved to Mammoth Lakes immediately following college. His time is divided by the seasons into his two main passions of skiing and climbing, though road biking plays an ever increasing role in his summer routine.
Details
Road Biking California's Sierra Nevada
2011 Wolverine Publishing
by Jim Barnes and Nate Greenberg
164 full-color pages
9780982615461