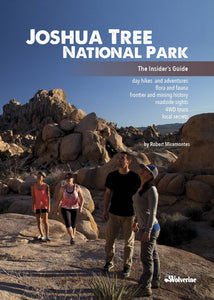 About the book
Need a Joshua Tree hiking guidebook? Curious about the Park's history? Interested in exploring off the beaten path? Look no further. This is a colorful, adventurous, hiker's and visitor's guide to Joshua Tree National Park, from the same team who brought you the Joshua Tree Rock Climbing and Bouldering guides. The Park's other-worldly landscape is a true wonder. From the twisted architecture of the Joshua trees, to the rock labyrinths of the Wonderland, to the vast ocotillo-speckled Pinto Basin, you will be constantly delighted.
Discover hikes of all categories, from wheelchair-accessible nature trails to highly unofficial belly-crawls through granite corridors. Sweat your way up a desert summit with 100-mile views, make an airy scramble to the top of a rock dome, or trek up a canyon to a palm oasis. Did you know the Park has a rich mining history? Visit off-the-radar mine sites and quirky desert homesteads. If you want to get away from the parking lots, whether for a full-day outing or a 30-minute scramble, this is your book. Sewn binding for abuse in your backpack, and postcard photography for when you're back home, planning your next trip.
Features:
photography tips
the skinny on the Park's 4WD roads
lots of frontier lore
helpful sidebars, including "If you only have a few hours," "Seeing the Park with kids," and more
a hit list for the excellent (funky) local art scene
a primer on the Park's rock climbing
The Author
Robert Miramontes first visited Joshua Tree National Park in the mid-1980s as a young and impressionable teenager. While there, he witnessed rock climbers scaling the sheer cliff walls and vowed never to engage in the sport. Well, several years later, Rob found himself back in the Park doing the unthinkable- rock climbing! This marked the beginning of a life-long obsession with Joshua Tree National Park. Initially, with rock climbing as the focus, he set out to explore every crag and rock pile, every cliff and summit. This culminated in the writing of four rock climbing guides to the area. During this time, Rob cultivated another passion, photography. Combining these two passions led to the creation of this book. Robert lives in nearby Desert Hot Springs with his wife Christina and their daughter Alexandra. Be sure to also check out his Joshua Tree Rock Climbing and Joshua Tree Bouldering guides.
Details
Joshua Tree National Park- The Insider's Guide
2016 Wolverine Publishing
by Robert Miramontes
240 full-color pages
9781938393235