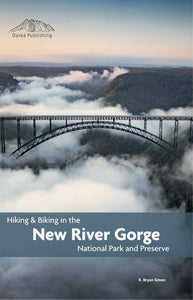 About the book
The New River Gorge region of West Virginia is a hiker's and biker's paradise, and this book covers 119 of its best trails. The New River Gorge National Park and Preserve and surrounding state parks encompass more than 80,000 acres of beautiful Appalachian forest and river environment. The area is an outdoor-lover's dream, full of enough adventure opportunities (including rock climbing, of course!) to keep a person busy for a lifetime. This guide is the bible of New River Gorge hiking and biking, and a perfect introduction to the area itself. It will get you on the trails as quickly as possible, and show you the wide range of opportunities, on and off trail.
Your play time is precious
We know how that is, and this book will help you maximize the time you have. Easy-to-read icons let you see details at a glance: trail type (hike, bike, run, cross-country ski, horseback, and/or handicap-accessible), mileage, elevation profile, and overall difficulty. The guide's detailed text, plentiful photos, topographic maps, and elevation charts will keep you on track. Helpful appendices include Lodging, Restaurants, Shops, Outfitters and Guides; Map Resources; and Recommended Reading. In short, you'll find everything you need to get out and experience the hidden wonders along each trail.
There is even a bonus chapter featuring Camp Creek State Park with miles of additional trails!
About the author
R. Bryan Simon is a WV native and current Fayatteville resident. A graduate of West Point, he was an infantry officer before an injury forced him to leave the military for other goals. He currently serves on the board of directors for the New River Climbers' Alliance, and his writing can be found in magazines, journals, and textbooks. Keep an eye out for his upcoming guide, A Local's Guide to the New River Gorge National Park and Preserve. 
Details
2021 Ourea Publishing
by Bryan Simon
352 color pages
9781733623261