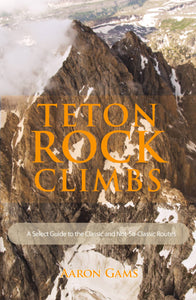 About the book
The Grand Teton, in northern Wyoming, may be the most iconic peak in the Lower 48 states. Surrounding this impressive high point is the craggy Teton Range, with a dozen other spectacular summits that would be crown jewels anywhere else. Not surprisingly, climbers flock to the Tetons, and have since the earliest days of American mountaineering. And it's not just looks: the quality and climb-ability of the rock and elegance of the routes has kept the Tetons in vogue. Teton Rock Climbs by Aaron Gams takes you directly to the best climbs in the range, with enough choices to last most visitors a lifetime. This 2012 edition is a selected guide to the local's favorite classic and new routes in the Grand Teton National Park with over 300 color images and 85 detailed routes, from 3rd-class mountaineering to 5.12+ test pieces.
Features
Inside scoop on Grand Teton National Park- maps, camping, weather, etc.
85 detailed route descriptions with approach and descent beta
300 color photos to aid in navigation
easy-to-read layout
About the author
Aaron Gams was born in Wisconsin, and after some time made his way to the West. Gams has been climbing in the Tetons for the last 20 years, and his knowledge of the area shines through in this guide. A one-time ski patroller, Aaron is now a practicing Neuromuscular Therapist in Jackson, Wyoming.
Details
 Teton Rock Climbs
2012 Ground Up Press
by Aaron Gams
238 full-color pages
9780976636328