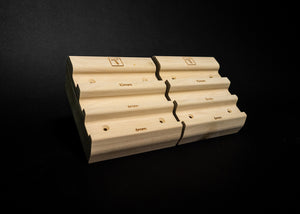 The Simple Board provides you with a concise yet versatile platform for all types of hangboard training.
The modular system allows you to build the hangboard that is just right for you, while also making it possible to upgrade your board as you get stronger without having to buy a completely new hangboard.
J1086
– The same comfortable top jug from the J2015 component for warming up and general pulling exercises.
– A sequence of three edges for minimum edge depth training
10mm
8mm
6mm
Good Quality Fingerboards
I like the quality of these boards in terms of how well finished the wood is and the simple, yet well-chosen grips for training. I have also owned the Metolius wood grips deluxe and think that the finish quality of the Tension board is similar, but like that I can adjust the width of the Tension boards to match my shoulder width. Would recommend for those looking for a simple, compact, but effective training tool.