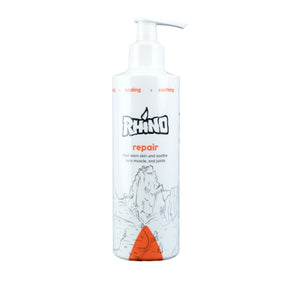 Skin Repair Lotion for the Active Lifestyle. Non-greasy lotion for sore and worn skin. Skin Hydrating, Regenerative, Cleansing, Strengthening.
Repair is hand made with earth grown ingredients. We pack the bottle with ingredients that work and leave out the fillers.
Contains analgesic menthol, nourishing magnesium and essential oils. 
Directions: Use liberally to help maintain optimum skin health.
​
Caution: Store product in a cool location. Keep product out of hot cars and away from direct sunlight. Do not get in eyes
Ingredients: Water, Grape Seed Oil, Honey, Stearic Acid (vegetable derived) Emulsifying Wax (vegetable derived) Peppermint Oil, Rosemary oil, Lavender Oil,Tea Tree Oil, Salicylic Acid, Thyme Oil, Willow Bark, Menthol.Use liberally to help maintain optimum skin
Recommend
Helps heal my hands so well!