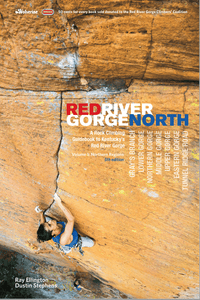 About the book
The Red River Gorge of Kentucky is one of the most enjoyable places in the world to climb. The Red River and its many tributaries have carved dozens of secluded canyons into the hill country south of Lexington, creating a natural wonderland and exposing a ridiculous amount of rock. The cliffs of the Red feature over 3000 routes, from traditional cracks to modern sport climbs, 5.4 to 5.14. More than enough to go around! But what makes Red River Gorge climbing unique is the wildly featured Corbin sandstone. Simply put, it's made to climb. The walls tend to be super-steep, but the holds are large and plentiful. You don't have to climb 5.12 get on crazy-steep rock here! Of course, if harder sport climbs are your thing, there is a lifetime's worth here. It is the most popular place on the eastern US to work your way up the grades.
Volume 1: Red River Gorge climbing North
This book, Volume 1 of a two-volume series, covers the crags located north of the Mountain Parkway (for the South, click
here
). This region includes some of the Red's most classic and historic cliffs, such as Military Wall, Left Flank, Long Wall, and Funk Rock City. Don't miss it!
Areas and features
Military and Left Flank
Long Wall
Phantasia Wall
Eastern Sky Bridge
Funk Rock City
GPS Coordinates for easy navigation
essays on Porter Jarrard, Miguel Ventura, John Bronaugh, and more
Looking to complete your set of Red River Gorge books? Pick up Volume 2: Southern Region. Want the best of both worlds? Check out our Red River Select.
Authors
Ray Ellington has been climbing in the Red for 30 years, has done four previous editions of this guidebook, and is tired of talking about himself on this page. He lives in Lexington, KY, with his wife and climbing partner Michelle, works as an IT Security Architect, and runs his website redriverclimbing.com.
Dustin Stephens has been climbing nearly 30 years, including lots of bumbly-period trips from New York to Miguel's in the 1990s. He moved from Yosemite to Lexington in 2009 for medical school and has been spending way too much time climbing, bushwhacking, and putting up new routes in the Red since then.
Details
Red River Gorge North
2015 Wolverine Publishing
by Ray Ellington and Dustin Stephens
248 full-color pages
978193893204