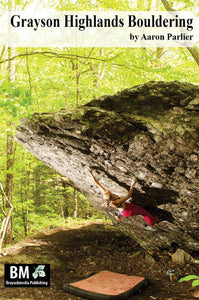 About the book
Grayson Highlands State Park in SW Virginia is a hidden gem. Steep boulders lie hidden throughout the park, providing curious boulderers with ample opportunities for great problems. The rock is metamorphic, and most problems are characterized by incut crimps, providing a bit of respite from the more typical slopes sandstone to be found in the Southeast. Grayson Highlands also offers the southern climber a chance at decent conditions (but admittedly far from perfect) in the summer, sitting at a higher elevation than elsewhere. Grayson Highlands Bouldering is the definitive guide, featuring 350 problems and written by the definitive local, Aaron Parlier.
Features
350 problems
150 color photos
"best of" tick lists
handy local beta
Find updates to the guidebook here.
About the author
Aaron Parlier is a true Grayson Highlands local, having grown up down the road from the boulders. His uncle took him climbing at the young age of 6, and he has gravitated to rock ever since. After a stint in the Army, Aaron studied Natural Resource Management at Virginia Tech, and he used this background to develop and promote climbing at Grayson. He estimates he has spent 1200 volunteer hours at Grayson since 2010. Aaron would like to thank his parents and family for their constant support, and also the employees of Grayson Highlands State Park for being so welcoming to the climbing community.
Details
Grayson Highlands Bouldering
2013 Brayackmedia Publishing
by Aaron Parlier
160 full-color pages
9780615705682
Tells you what you need to know
Very detailed, full color, great topo! Seller was also awesome, package arrived on time with no damage!