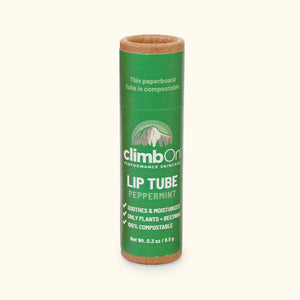 Dry, chapped, cracked lips are all-too-common among outdoor athletes. The climbOn Lip Tube tackles the problem with both short-term and long-term skin moisturization using a blend of raw beeswax, shea butter, and plant oils. These food-grade ingredients provide soothing comfort and durable resistance to the elements while pursuing outdoor adventures. Plus, our balm nourishes the lips as part of a daily skin moisturization routine.
Ingredients
We use only real ingredients, not cheap imitations. Our ingredients are food-grade ingredients, with a higher standard in purity, safety, and reliability. And while virtually all other skincare brands heavily dilute with water and synthetics, we never do.
Here are all of the ingredients we use in the Lip Tube:
GRAPESEED OIL
A source of Vitamin E, with a high content of omega fatty acids. It softens and nourishes the skin as it is absorbed into the skin very quickly.
WHEAT GERM OIL
A natural exfoliant, high in vitamin A, vitamin D, Vitamin E, and many other essential nutrients.
SHEA BUTTER
Ideal for moisturizing and softening skin, while forming a protective barrier against free radicals.