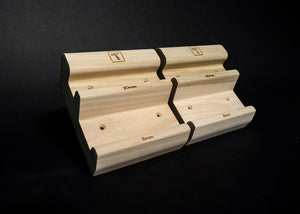 The Simple Board provides you with a concise yet versatile platform for all types of hangboard training.
The modular system allows you to build the hangboard that is just right for you, while also making it possible to upgrade your board as you get stronger without having to buy a completely new hangboard.
J2015
– A comfortable top jug that isn't too big or too small, but just right for warming up and general pulling exercises.
– Two custom tapered edges that are perfect for progressive load modification training. Edges so comfortable you can even use them to train pocket grips.
20mm
15mm