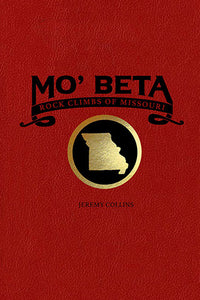 As Climbing has skyrocketed in popularity since the last guidebook to our mounain-starved state, so has the crag development. Over 500 new routes appear in MO' BETA that have never been shared in book form. 
Description
What crags are included in MO' BETA?
(Deep inhale)
Cliff Drive, Swope Park, Blue River Bend, Trappers' Camp, Reed's Bluff, The Quarry, Turkey Creek, Monegaw Springs, Warsaw, Bump n' Grind, Raven Rocks, Capen Park, Drive-In, Andromeda, Providence, Wilton, Reform Rock, Peter's Branch, Paddy Creek, Boiling Springs, Elephant Rocks, Scheuler Ferry, Henley, and Earthquake Hollow.
 Mobeta